Obsidian Butterfly Stone and Plant Medicine FAQ
What is a Stone Elixir?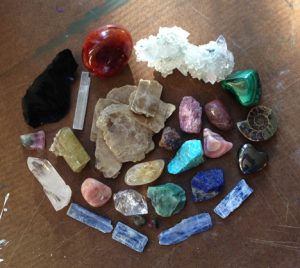 Stone Elixirs are ancient, alchemical formulations used in cultures around the world from times reaching back into pre-history. They are a powerful vibrational medicine much like Flower Essence Remedies (i.e. Bach Flower Remedies, or those made in the same way.) Because they are an energy medicine they go beyond superficial, symptomatic layers and into the deep Soul Layers of our being, what is referred to in Chinese Medicine as the Yuan level. At this level we are able to access and heal our deepest wounds, even those reaching back into our ancestry.
I create all of my stone elixirs in union with the Elements, Seasons, All Beneficial Beings from all realms, and the cycles of the celestial bodies. I try to list as much about the time period in which each elixir was created, and the properties of the stones, so that you have more information when determining which elixir you want to work with. However, just looking at the photos of the stones and tapping into your own intuition and connection to Source is the best way to choose which elixir you need. You are the healer. Connect with the stones and you will find a clear direction for your own healing.
Stone Elixirs are made in water and preserved with organic cane alcohol, which is gluten free.
Many of my creams and salves are also infused with stone essences, and I also do combinations of herbal tinctures and stone elixirs. Feel free to use your own intuition in the way you use your stone elixirs.
What Is The Standard Dosage for a Stone Elixir?
4 drops/ 4x per day for 7 days, or until a shift is felt. Place the drops in a little water or under the tongue. You can also add a few drops to a water bottle and sip during the day. In acute situations place few drops under the tongue as needed.
Storage And Preservation
Obsidian Butterfly Stone Elixirs are preserved in 30% organic cane alcohol and water. They will last a very long time kept at room temperature. Do not leave in a very hot place or in the sun.
Disclaimer
These products have not been evaluated by the Food and Drug Administration. Any use of this website or the information contained in this website is at your own risk. The medical information provided in this site is for educational purposes only and is not intended or implied to be a substitute for professional medical advice. Always consult your physician or healthcare provider prior to starting any new treatment. The information on this website is not intended to diagnose, prevent, treat or cure any disease.